Bring Common Sense to the Debt Ceiling Debate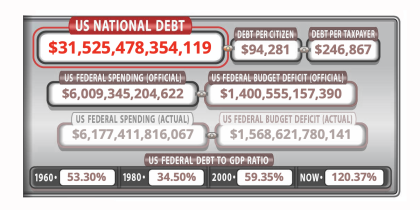 Once again, there is a showdown in Washington, D.C. over America's excessive national debt. And once again, there is a lack of common sense among lawmakers.
In January the United States hit the debt limit, putting us in a tenuous spot that can't be sustained. Our national debt currently sits at $31.5 trillion. In the last two decades, the national debt has tripled. Clearly, lawmakers need to get federal spending under control—especially since one-third of the national debt is held by foreign powers.

Raising the debt limit at this point is inevitable—in fact, refusing to do so would be a disaster, sending the lives of millions of Americans into chaos and wreaking havoc on the global economy as well. What doesn't need to happen is a raising of the debt limit without any reform. It's time for fiscal responsibility in America.

Will you contact your representative in the House today? We must hold our elected officials accountable. The current rate of federal spending and borrowing is unmanageable. To achieve effective change, both parties must be willing to work together on behalf of our nation's future.

We've provided a suggested message, but feel free to adjust it so that it reflects your exact views.

First, Enter Your Zip Code