S.788 Equality Act - Senate
Tell your senators to oppose the Equality Act.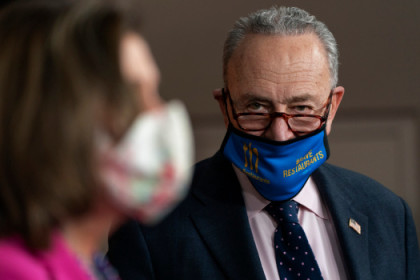 President Joe Biden promised to prioritize the so-called Equality Act in his first 100 days as president, and he delivered on that promise. The "Equality Act" has already passed in the House and is currently up for a vote in the Senate. In order for this bill to pass the Senate and head to Biden's desk, all it needs is for every Democrat and 10 Republicans to vote "yes." So we need to fight it — now.

This is an extremely dangerous bill that could undo religious liberty rights in America, and even harm non-religious Americans.
The Equality Act will make sexual orientation and gender identity protected classes under the Civil Rights Act of 1964. Advocates of the Equality Act claim this will protect the LGBTQ+ community from discrimination. What it really does is discriminate against any American who holds a traditional view of marriage, sexuality, and gender.

In short, if you are…

A faith-based school that only hires teachers who affirm a certain religious creed…

A women's shelter that does not allow biological men to share intimate spaces with vulnerable women…

A doctor who does not believe minors should be prescribed cross-sex hormones…


Even a doctor who refuses to perform abortions on moral or religious grounds…
You will be stripped of legal protection to live out your beliefs.

If the Equality Act becomes law, it will be devastating to any person or religious group who holds a traditional view of marriage, sexuality, and gender. It doesn't matter if you are part of a group that does charitable work, like placing children with loving, godly families, or serving victims of domestic violence. It doesn't matter if you oppose actual discrimination of LGBTQ+ Americans and even hold progressive beliefs. If you disagree with any aspect of the extreme ideology represented in this bill, you will have to conform — or run afoul of the law.
Stand up for religious freedom and the rights of conscience. Contact your senators and ask them to oppose the so-called "Equality Act." Find contact information for your senators here. We have provided a suggested message to send to them. Feel free to change the wording so that it reflects your exact concerns.
First, Enter Your Zip Code