Resist the RESTRICT Act
The RESTRICT Act is a dangerous freedom grab.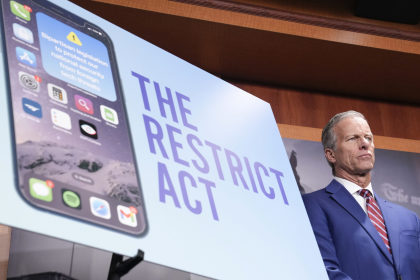 The RESTRICT Act before the Senate is far more than a TikTok ban. It's a threat to American freedom, reminiscent of the post-9/11 Patriot Act.
Introduced by Sens. Mark Warner (D-Va.) and John Thune (R-S.D.), with the support of more than twenty bipartisan co-sponsors and the Biden Administration, the RESTRICT Act is supposedly an answer to mounting concerns over TikTok. With ties to the Chinese Communist Party, TikTok does present serious concerns, but the RESTRICT Act is the wrong way to address those concerns.
In short, the RESTRICT Act could increase surveillance of Americans, restrict free speech, punish citizens with jail time, fines, and confiscation of private property, and more.
Here are just a few details about the bill…
The bill prohibits "transactions" with technology owned by foreign adversaries, currently listed as China, Cuba, Iran, North Korea, Russia, and Venezuela.
The bill allows the government to add foreign adversaries to that list without informing Congress.
The bill allows the government to ban technologies it considers a national security risk, including apps we already have on our phones and multiple social media platforms.
Criminal violations of the rules proposed in the bill are punishable by up to $1 million in fines or 20 years in prison—as well as confiscation of your property and online information.
Government investigations of "transactions" deemed problematic are not subject to FOIA (Freedom of Information Act) requests, eliminating transparency or accountability.
The language of the bill is vague in many areas, leaving plenty of room for the government to go after nations, domestic groups, and individuals it doesn't like.
"This is not an effort to push back against China," said Tucker Carlson on Fox News. "It's part of a strategy to make America much more like China, with the government in charge of what you read and see and with terrifying punitive powers at their fingertips."
A growing bipartisan cohort of politicians, pundits, and citizens agree. What do you think? Make your opinion heard! We've made it easy to contact your senators about the RESTRICT Act, even providing a suggested message for you to sign. Feel free to edit that message to reflect your exact concerns.
First, Enter Your Zip Code